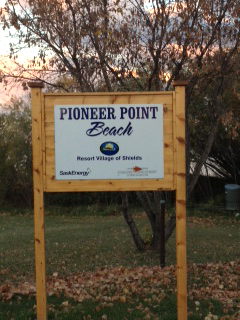 Pioneer Point Beach
"Volunteers developed the area and it is a great space to play!
Pioneer Point Beach is a community park and beach area that was made possible with the vision and dedication of our Beach Committee and the support of Shields Council. The site includes a sandy beach area large enough to house a volleyball court as well as space for sun tanning and sandcastles. There is  a walking trail with several different bushes, trees, and groves to meander as you make your way through. This is a grassy area good for bocce and frisbee as well as several picnic tables set out so that residents can relax and bring friends and family to spend a great summer day.
Generations Park
Generations Park, built in 2011, reflects the Spirit of Shields as it was also created with the help of many dedicated volunteers, and a project team that didn't stop.  It includes Aden's Playground structure made possible with donations from family and friends of Aden Glatt as a loving tribute to his eternal energy, contagious playfulness, and love of life. The park has a beautiful picnic shelter, outdoor fitness stations and a 500-meter walking path meandering around the park.  The soccer field is located at the east end of Generations Park and is home to the 'Shields Minnows' the group of our many young children that join the soccer program each year.
There are many other green-spaces in the Village that the residents enjoy.  They include Friendship Field, Songbird Lane, Lake-view Rise, Outlaws Ravine, and Mountain View.
Park Projects