March 5th, 2022.  Tickets available at eventbrite.ca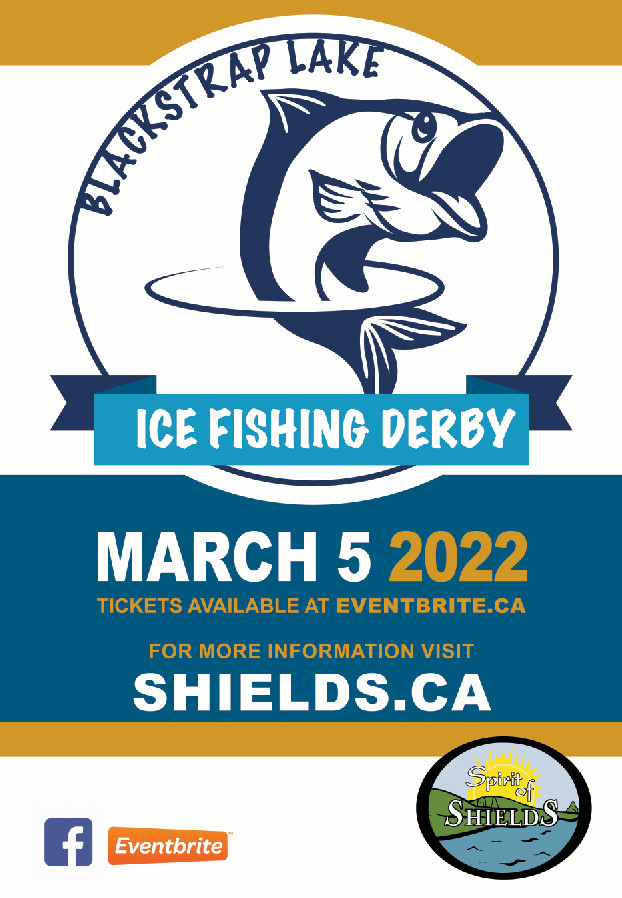 The 3rd Annual 2022 Black Strap Lake – Ice Fishing Derby – Resort Village of Shields – Saturday, March 5, 2022

(Proceeds will go towards amenities and equipment for the Sports Court at the Resort Village of Shields)
Register here: https://www.eventbrite.ca/e/blackstrap-ice-fishing-derby-2022-resort-village-of-shields-tickets-230452508657

Registration/Breakfast 9:00-11:00 am – Resort Village of Shields Hall – #8 Procter Drive – Shields, SK.

Fishing 12:00 pm – 3:00 pm

Catch and Release Only – Walleye, Northern Pike and Perch

Entry fee $25 / person (pre-registration) plus processing fee or $30 / person day of event – No refunds.

GREAT PRIZES! All entries are eligible for prizes.

50% Cash payout (1st 50%, 2nd 25%, 3rd 15%, smallest 10%)

50/50 – QR code will be available the day of the event to purchase tickets


More prizes TBA



2019/2020 Fish Derbies were a huge success, despite the weather, this year we will be allowing pop up shelters.
Ice Fishing Derby Rules

***DANGER!! ICE HEAVES, CRACKS AND SLICK ICE! EVERYONE ENTERS AT THEIR OWN RISK***
Each angler must have in his/her possession a valid Saskatchewan fishing license (if required by law). Please follow angling rules for Blackstrap Lake.

The Village of Shields is not responsible for death, injury damage liability, theft or fire to any of the entrants. Each
entrant's registration form to the derby will be, in effect, signing a waiver.

The prize money will be 50% of the registration fees. The largest fish of perch, pickerel or northern pike (jack) will be the 1st prize winner (50% of prize money), 2nd largest, 2nd prize (25% of prize money), 3rd largest, 3rd prize (15% of prize money) and smallest fish 4th prize (prize money). Fish caught only qualify for one prize. Prize money will be distributed by drawing names if fish are not caught for each category.

In order to provide time to drill your hole/holes, you will be allowed in the designated fishing area from 11:00-11:45.
(Maximum two holes per person). You may only drill # of holes purchased, and they must be drilled in the designated area before 12:00. The derby will not start until 12:00, wait for horn to blow before putting your lines in. At the end of the derby at 3:00, the horn will blow and you must stop fishing. Anyone in line with a fish at the weigh station prior to 3:00, will get their fish measured. Presentations to start right after in the hall.


The types of fish that qualify for the derby are Walleye, Northern Pike and Yellow Perch. Fishermen must keep the fish

alive in a bucket or in a cooler when brought to the weigh station. Any fish brought to the measuring station in a
damaged state or dead will not be eligible for a prize. The decision of the judges is final. Please have with you a five-
gallon pail to bring your fish to the weigh station. This is a catch and release derby.

You may register as many fish as you want, but only one prize will be awarded per entry (largest fish entered). The
person who catches the fish must bring it to the weigh station.

Unregistered fishermen are not allowed to use the holes in the designated grid area, please keep your arm ribbons
visible.

Kids of all ages must be registered and paid in full-no exceptions.

At all times before, during and after you are responsible for your own safety, actions, gear and equipment.

Contestants will be allowed to use portable fish houses only within the permitted fishing area.

No pets in the fishing area.

Please do not litter. Garbage cans will be on site.

No snow machines or vehicles allowed in the fishing area (accept volunteers)

No electronic fish finders.

Portable washrooms will be available outside, as well as, bathroom in the hall.

Prizes for 50/50, door prizes and raffles will be announced at the hall at 4:00 p.m.

Failure to comply with the derby rules subjects the contestant to disqualification.


 Saskatchewan Health Authority COVID-19 regulations will apply to event.