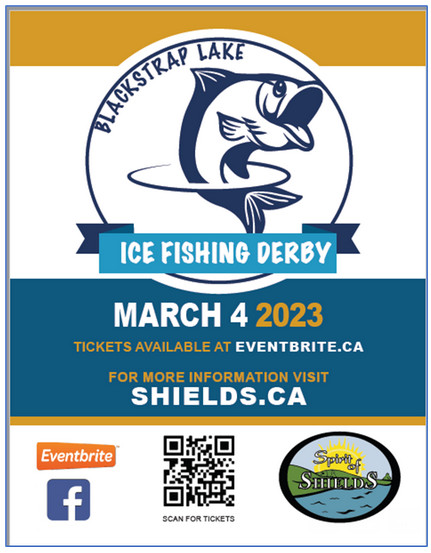 We have exciting news! On Saturday, March 4, 2023, the Resort Village of Shields is hosting another Ice Fishing Derby on Blackstrap Lake.
This event will start at 9:00 a.m. in the Community Center, with registration and a pancake breakfast. The Fishing Derby will run from 12:00 noon to 3:00 p.m.
There will be cash prizes awarded (50% of registration fee) for fish caught. Prizes are awarded as follows: largest fish 50%, second largest fish 25%, third largest fish 15%, and smallest fish 10%.
There will be 50/50 tickets and prize raffles available for sale. Even if you are not interested in fishing, the community is invited for the pancake breakfast. Please note that the 50/50, raffle and breakfast will all be cash only please. It will be a fun day for the whole family!
All profits from this event will go towards sports equipment and amenities for the Resort Village of Shields.
We look forward to seeing you at the 2023 Ice Fishing Derby!
FOR MORE INFORMATION AND TO REGISTER FOR THE FISH DERBY CLICK BELOW: